1
« on: Today at 03:11:11 am »
Foundation vents are now working for the polyline stemwall tool: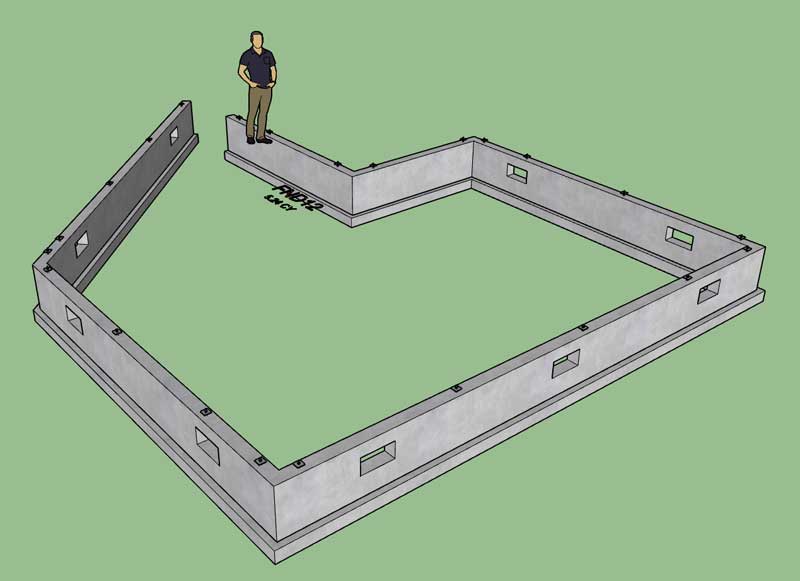 The next item of business is to create the edit menu and then check that all of the parametrics are working as advertised. Once the edit functions are up and running I will release the next version and then begin working on the "Step" tool.
I've also been giving the interior bearing tool some thought and I think I will start with only two basic types (stud wall and posts & beams). There are also quite a number of other variations that are commonly used such as steel posts etc... but I will wait until those are requested directly by the designers before diving into those.
I've also been giving brick ledges (and stemwalls) some thought and trying to come up with the most logical way of handling this type of construction. Typically when a brick ledge is called out the stemwall is thickened however the rest of the segments within a foundation may not have brick ledges and will be a different thickness. So brick ledges needs to be on a per wall segment basis.
Another item of interest is including more rebar when the stemwall is actually a full basement wall and also including vertical bars. How deep does the rabbit hole go? When it comes to full basements I will also need some tools for cutting windows and door as well as placing window and door hardware similar to the wall plugin. Additionally if the user does cut an opening in the foundation wall the rebar must be adjusted to account for this opening.
I've also had a number of requests for CMU stemwalls rather than concrete. In my opinion modeling of a CMU wall is no different than what I already have I just need to incorporate some fancy material application logic to make the solid look like CMU (similar to what I have done with the wall plugin). I will enable a CMU option that will allow the user to create CMU stemwalls.