1
« on: Today at 09:25:11 am »
After looking at various details (including some of my own) I am wondering if enabling an option to include a 4" DIA drain pipe along the footing might be of some interest. Please let me know know your thoughts on this. I haven't had too much call for it but I have often called one out in many of my own plans and drawings: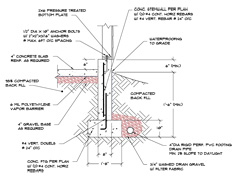 http://design.medeek.com/cad/autocad/STEMWALL_DETAIL.pdf
Parameters would probably be:
1.) Diameter: 4"
2.) Bend Radius: 4"
3.) Wall Thickness: 0.125"
4.) Hollow: Yes/No
5.) Ftg. Clearance: 2"
Additional layer for PVC and a PVC material (RGB: 149, 219, 184)