71
« Last post by Medeek on January 08, 2019, 09:39:13 pm »
Version 0.9.9y
- 01.09.2019
- Added cripple and corner studs to the Medeek Estimator.
- Added top and bottom plates to the Medeek Estimator.
- Added window framing: header, sill plate, king studs, trimmer studs and sill trimmer studs to the Medeek Estimator.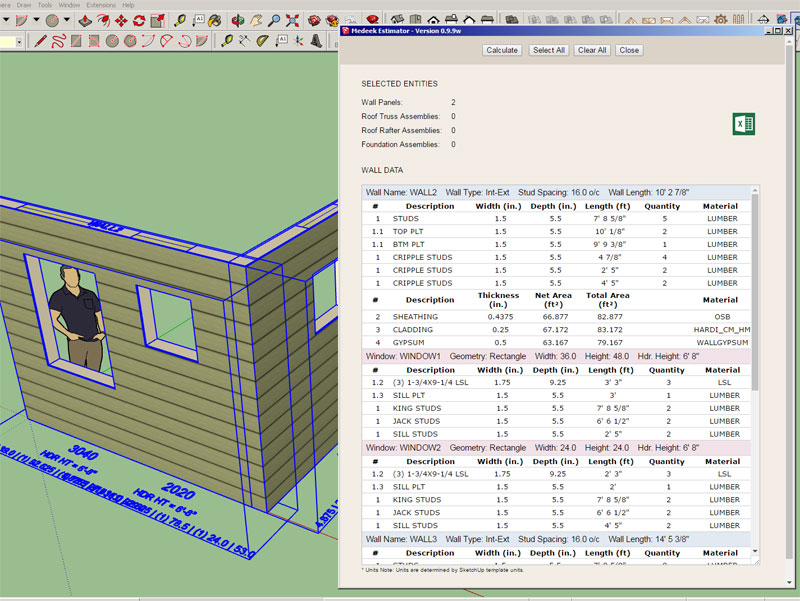 I shuffled things around a bit so the presentation is also more tidy both in the preview screen and in the CSV file.
Cripple studs are sorted per wall by length (shortest to longest), a shout out to Fredo6 and Eneroth for helping me tighten up the algorithm that does the sorting and enumeration.
https://forums.sketchup.com/t/sorting-a-list-of-values/84902
Windows for each wall appear below the wall's item listing, notice the different color header to help visually differentiate the sections. I will also use a unique color for doors, garage doors, columns and SSWs within the Wall table.
If there are sub-items that need similar treatment in roof and foundation assemblies I will utilize the same system, as it seems to work reasonably well.
I have not yet added doors and garage doors, they will be next. Windows are the guinea pigs. There is quite a bit of data to process so the ruby transmits the data to the HTML in blocks. Even so the speed is so fast there is hardly a lag when you hit the calculate button. I'm curious to try this with a full house model with 100+ walls.
I haven't gotten much feedback on the layout of my CSV file, I am hoping for more input in the near future so I can make it as effective and usable as possible.