1051
« on: March 18, 2016, 06:41:31 am »
This is a re-visit of the unequal pitch hip roof a few days back. Larry Belk, an experienced architect whose advice I highly regard, has suggested that an alternative way to handle this type of roof is to raise the top plate and thereby allow the overhang to remain constant around the roof:
View model here:
https://3dwarehouse.sketchup.com/model.html?id=u24f241c6-d493-45cb-9506-d025d7ebd795
Compare with hip roof 7: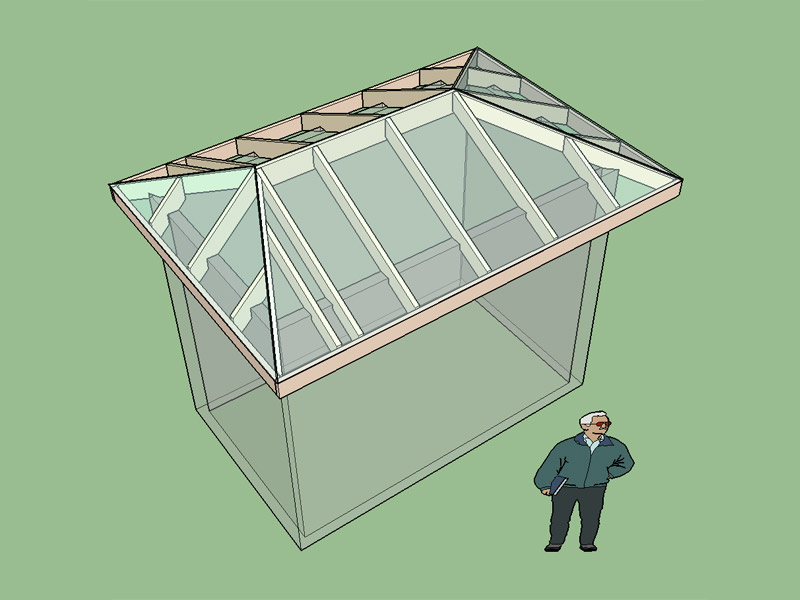 and model:
https://3dwarehouse.sketchup.com/model.html?id=uc12480ec-9330-464b-93eb-56bc73878207
A few things pop out at me here.
First the raised top plate method allows the constant overhang with the continuous fascia, overall this is more aesthetically pleasing.
Second the hip rafter is no longer at the corner but is jogged in some amount onto the higher wall.
Third, the higher wall actually is protruding through the sheathing of the lower pitched roof in the model. Obviously the higher wall needs to be trimmed back some to deal with this.
For the plugin I think I will probably go with option 1 above initially but at some point it would be good to have a checkbox that allows one to choose either of these two options, the code is going to get ugly.