The Medeek Toolbox
Introduction
Welcome to the user documentation for the Medeek Toolbox. The Medeek Toolbox enables access to many of the resources on our site and provides a simple interface to customize many of our design criteria maps and calculators with your own company information.
What Can You Do with the Medeek Toolbox
The Medeek Toolbox Key can be used to enable "unlimited" access to any of our maps and online calculators. Most of these resources are currently limited, from two to five queries per 24 hour period for guest users, in order to prevent overuse of server resources and bandwidth.
Additionally, spreadsheet (MS Excel) calculators found on the resources page, and AutoCAD drawing in the CAD library require a toolbox key in order to download.
The Medeek Toolbox also allows a company to customize the following parameters within the title block of the output (PDF reports) of our maps and calculators:
Engineer's Name
Company Name
Company Address
Company Phone
Company Website Address
Copyright Notice
Company Logo
Each of these parameters can be modified via the Medeek Toolbox Service within the Account Manager. Your company logo can be easily uploaded to our server and is automatically sized and positioned within the title block as shown below.
These customizations are enabled in the reports with the use of a Medeek Toolbox Key. Without the use of the toolbox key all of our PDF reports display our own corporate name and logo as shown below:

The exact same report is shown below but with alternate company information enabled via the Medeek Toolbox option:

Note, that job specific fields within the title block are always filled out using the forms provided on the calculator or map and are independent of the toolbox parameters.
The Medeek Toolbox Key may also be used for other features and services that we are currently developing.
Audience
This document is intended for structural engineers, architects and other design professionals who need to supply their own clients with professional looking documentation of specific design criteria or structural calculations. It provides an introduction to using the Toolbox and instructions for its use.
Usage Limits
The Medeek Toolbox has no usage limits currently in place for most of the tools on the website. Any of the calculators can be viewed from our website and customized PDF reports generated with unlimited amount of access at any time.
Specific usage limits do apply for the following site criteria maps:
ASCE Ground Snow Loads
New York Ground Snow Loads
Michigan Ground Snow Loads
Utah Ground Snow Loads (2019
Nevada Country, CA Ground Snow Loads
ASCE Wind Speeds
The current usage limits for these maps are:
25 requests per day
500 requests per month
5,000 requests per year
Due to the ovewhelming traffic and high bandwidth usage of these maps we decided to move from an unlimited usage model to a more sensible metered model. However, for unlimited usage to these site criteria maps, and in order to accommodate certain customers, a second price tier is being considered, and a "Premium" Medeek Toolbox Key will be made available in the very near future.
Toolbox Key
In order to use the Medeek Toolbox a toolbox key is required. All keys are managed through the Medeek Account Manager. To create your key:
Click the Medeek Toolbox icon in the Services menu within the Account Manager, then proceed to purchase a Medeek Toolbox key:

$8.00 - 30 day access
$35.00 - 1 year subscription

Once the service has been activated, your toolbox key is available at any time from the Medeek Toolbox page, in the Services section.
In the Medeek Toolbox Control Panel click on the key(s) listed to view the company/corporate information associated with that key. Modify these parameters as necessary to reflect your company information and logo.
Note that the text in the title block will appear exactly as you have input it into the toolbox control panel (ie. capitization of names). Also be aware that carriage returns can be inserted into the copyright notice by using the html tag
<br>
.
Key Usage
Most calculators and design criteria maps with the Medeek Toolbox enabled will display a small button with the text "Medeek Toolbox..." directly below job specific inputs or a green icon with the letters "TBX" in bold. Clicking on this button or icon will cause it to drop down and display an input for your toolbox key and a checkbox that allows you to activate the key automatically from your browser/computer as shown below.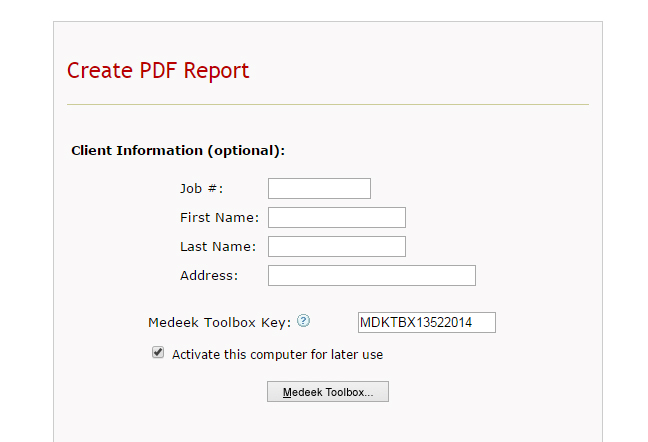 Activating for later use will put a "cookie" in your browser, for this to work your browser must be allowed to accept cookies. Unclicking the checkbox will clear the cookie from your browser and remove the stored key.
Updates
View the Medeek Toolbox Changlog for more information on updates to this service.
If you have any questions or concerns about the Medeek Toolbox Service please call us at 1-425-420-5715.